RELAX. RECHARGE. RECONNECT.

Visit our tranquil game lodge for an intimate bush getaway with family and friends
Duiker Game Lodge is located in the heart of Zululand just outside Hluhluwe, Kwa-Zulu Natal.
Our six tastefully decorated, en suite chalets nestle in the bush and are linked to the main lodge by walk- ways ensuring our guests privacy and at the same time, convenient proximity to the facilities at the main lodge.
Wifi and a coffee station ensure our guests can enjoy home comforts from their private patio whilst enjoying the peace that can only be found in these tranquil surroundings.
View Accommodation
We offer daily game drives.
The dawn chorus of our plentiful bird population is the perfect start to the day for the early riser. The crisp quietness in the air, together with the first stirrings of nature and the comfort of an aromatic, steaming hot cup of coffee is sublime and food for the soul.
Against the vibrant colours of sunset ,the early evening game drive offers our guests the opportunity to experience nature retiring for the dark night ahead. A chilled drink in one hand, great conversation and camaraderie and the promise of a delicious dinner to follow, is the perfect way to end another day.
More Details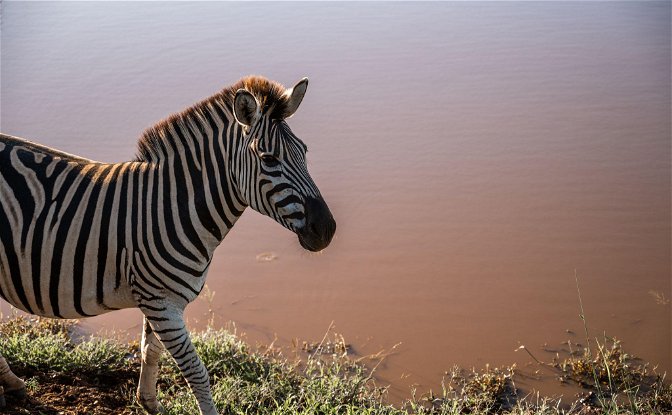 Enjoy our wide variety of Wildlife
Plains game is not plain game - Creation is never plain!
We have a large variety of plains species on our property including Giraffe, Sable, Kudu, Zebra, Nyala, Wildebeest, Impala and Reedbuck.
Duiker Lodge adds Warthog, Ostrich, Jackal, Mongoose, Porcupine, Aardvark and Genet into the mix for more interesting viewing. Guests with a keen eye may even spot the elusive Leopard, Aardvark and  Hyena .
Dung beetles, Vultures, Shrews, Weaver Birds, Termites and an abundance of indigenous flora ensure a healthy ecosystem on our Reserve.
Reviews
A hidden gem - best reasonably priced game lodge in Hluhluwe area

I spent a good while researching where to stay as a base to see Hluhluwe-Imfolozi game park. The main lodge inside the park is being very badly run- we visited for lunch. Many of the lodges are in and around Hluhluwe town, so they do not offer a game lodge experience. But Duiker is great because it sits in its own 400 hectare estate, which is a small game... Read this review

Rod

The rooms were large and very comfortable

I loved how the mesh covering the windows let you leave the windows open to still enjoy the beautiful nature sounds. The facilities all around the lodge are incredible. The beautiful animals even came up to visit us some days. We feed Tuli the Tame Nyala and saw Pumbas wife with her little babies cruising around the lodge area. The staff go out of their way to make you... Read this review

Iliana

A hidden gem near the Hluhluwe-Imfolozi Park

Park. It's a 39 ha farm and has animals like Zebras, Giraffes, Impalas, Ostriches, Blesbocks etc. If you like you can do a morning and sundown safari on the farm for free. Very friendly staff. Everything was clean and the 3 course dinner which was included in the price was excellent. Only 25 minutes by car to the Hluhluwe-Imfolozi Park. I will definetely come back.

Dirk

We would have liked to stay even longer

Our stay at Duikers Game Lodge could not have been nicer and we would have liked to stay even longer. The rooms and common areas were incredibly tastefully furnished and extremely clean. The entire staff we found very personable and attentive. But the most extraordinary thing about the property was the completely secluded location in the middle of nature. It was incredibly relaxing to wake up in this peaceful... Read this review

Stephanie